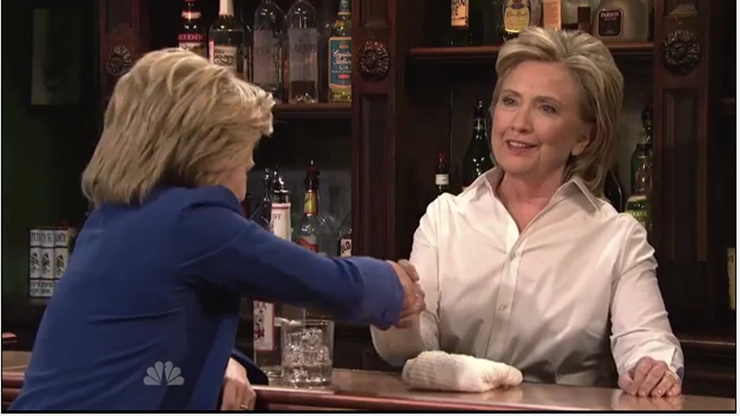 Hillary Rodham Clinton‬‬ appeared on the season premiere of Saturday Night Live this weekend, and she delivered the goods. Clinton, who had a tough summer because of the email scandal and Bernie Sanders' rise in the polls, mocked Donald Trump, the front-runner for the Republican party nomination for president.
Clinton's Trump impression received a lot of praise from social media. However, Kate McKinnon, the actress, who plays the politician on the show, gently dinged the former Secretary of State for not endorsing gay marriage earlier and for being stiff. The candidate kept her cool and smiled through it all as she portrayed a bartender named Val.
Clinton, who came to the program looking for some positive headlines, will probably be happy with the result. Her supporters will say that she was great in the cameo, and her critics will probably not give her any credit for handling the SNL appearance well. People in the middle might appreciate her efforts to be more "human."
Darrell Hammond as Bill Clinton was a very funny addition to the skit.
A vote for Hillary is a vote for four more years of Kate McKinnon's impression. #citizens pic.twitter.com/8WFlf1dy9n

— Hillary Clinton (@HillaryClinton) October 4, 2015
"@scottferson: .@TaranKillam plays a way better fake @realDonaldTrump than a real @HillaryClinton plays herself @nbcsnl"

— Donald J. Trump (@realDonaldTrump) October 4, 2015
Conversations