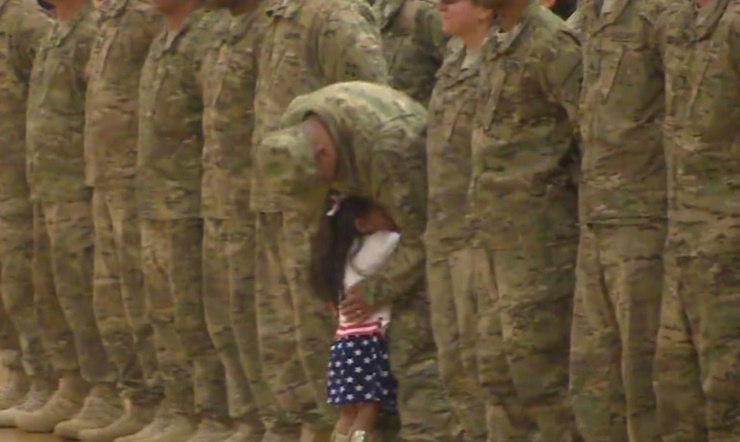 Fort Carson, El Paso County, Colorado is in the news, thanks to an adorable little girl. On Tuesday, Karis Oglesby was so thrilled to see her father, Daniel Oglesby, from the Fort Carson 3rd Armored Brigade Combat Team, 4th Infantry Division that she ran to him for a hug while he was standing in the homecoming lineup at a ceremony.
The clip of the child wearing red, white and blue sharing a special moment with her father has gone viral. Daniel Oglesby, who was returning home from an 8-month deployment in southwest Asia, said:
"I was trying to decide whether or not it was good practice to break formation, but I didn't have the heart in me to not give my little baby a hug."
He added:
"She was excited. She spotted me from a couple rows back and she couldn't contain herself. I wasn't gonna tell her no. Being gone for eight months–it's tough. But once you see the look on their faces when you get back makes it worth it."
The Internet is debating whether the mother should have held the child, what say you?
Conversations