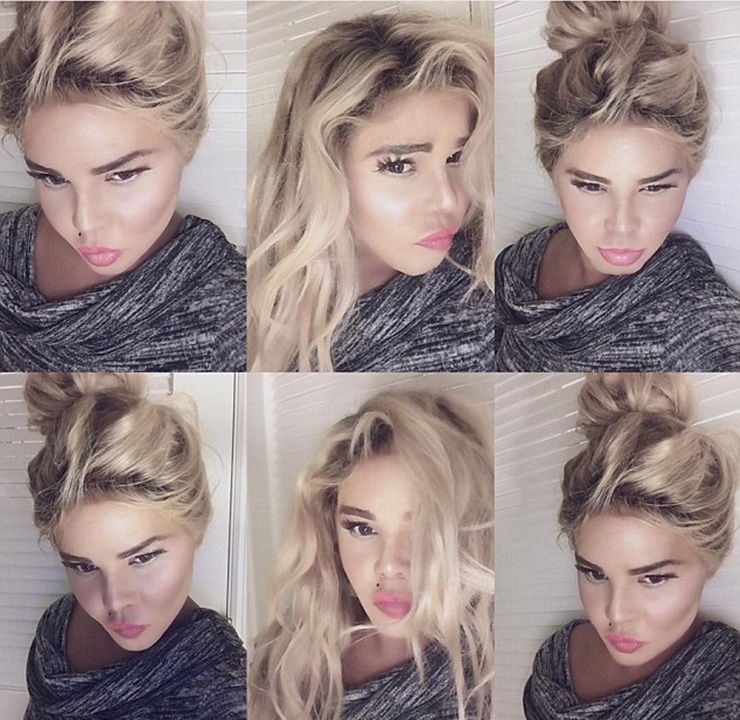 Lil' Kim is now white with blonde hair, and her fans are freaking out. Via Instagram, Kim shared a new picture of herself looking like Kylie Jenner after years and years of bleaching her skin.
This weekend, the female rapper was in Florida, hosting Yolo Sundays at Club Climaxxx in Miami alongside 30 exotic dancers.
Thrilled by the gig, the New York femcee took to Instagram to share a picture and a video from the event. The former Dancing with the Stars contestant sent fans and foes into a frenzy because she looked like she has been seeing Michael Jackson and La Toya Yvonne Jackson's many plastic surgeons.
Kim's skin has been bleached to look like a European porcelain doll. The "Crush on You" singer, who welcomed a daughter named Royal Reign with former boyfriend, Mr. Papers, has stated in many interviews that she loathes her dark skin and has been told by many men she is not beautiful or good enough. She explained:
"I have low self-esteem and I always have. Guys always cheated on me with women who were European-looking. You know, the long-hair type. Really beautiful women that left me thinking, 'How I can I compete with that?' Being a regular black girl wasn't good enough."
She was also quoted saying:
"All my life, men have told me I wasn't pretty enough – even the men I was dating. And I'd be like, 'Well, why are you with me, then?' It's always been men putting me down just like my dad. To this day when someone says I'm cute, I can't see it. I don't see it no matter what anybody says."
What do you think of this controversy?
Lil Kim changes her face every 5 years. She's either a drug dealer or the person who really shot Biggie.

— Bdell (@Bdell1014) April 25, 2016
Lil Kim deserves words of positivity. She needs love, support and understanding, not shame and judgement.

— Brandon Evers (@BrandonEvrs) April 25, 2016
This is actually heart breaking. I feel like crying right now! #lilkim #emotional https://t.co/duW2IDIyCx

— Pretty M. Thogo (@tishy_tee) April 25, 2016
If #BlackMen are responsible for for Lil' Kim……

…..are #BlackWomen to blame for this? pic.twitter.com/9eSzFCXZqi

— Thoughtful_BlaCkman (@wizdom4you) April 25, 2016
Sad that people are making fun of Lil Kim but society is the factor that made her hate her skin pic.twitter.com/hUaqtw0dLQ

— morgan (@Yeahmorgs) April 25, 2016
You're saying horrible things about Lil Kim's appearance then wondering why she has self esteem issues in the same tweet????

— c (@ChantelleBREEZY) April 25, 2016
Conversations