Shia LaBeouf called his lookalike, a man named Mario Licato, who was brutally beaten because he resembles the star.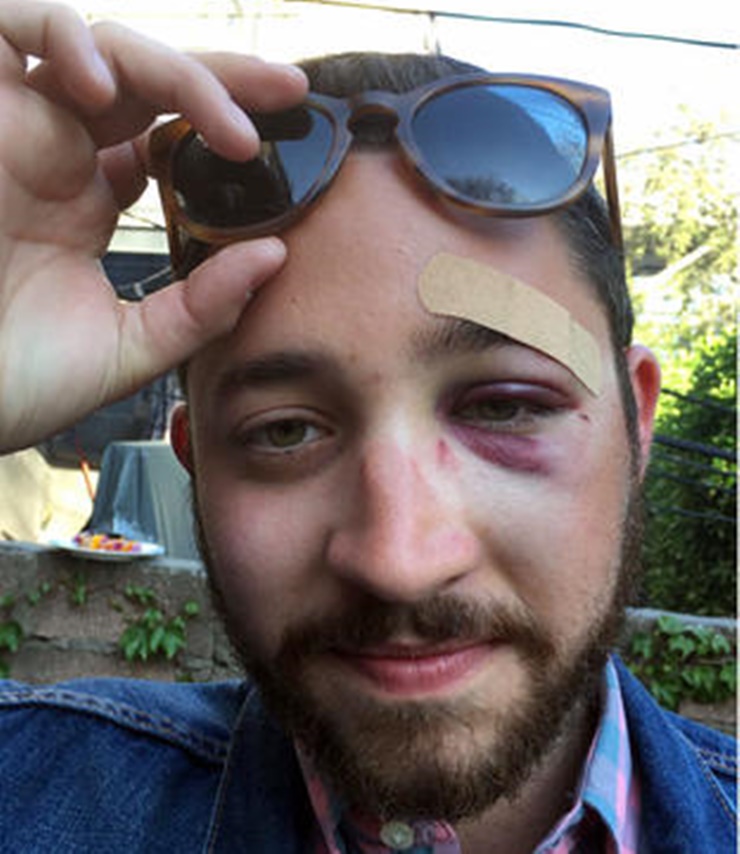 Mario Licato, a Shia LaBeouf lookalike, who was punched because of his striking resemblance to the actor, received a very surprising phone call from the Man Down star.
Last week, Mr. Licato was exiting a Lower East Side subway station in New York when a mysterious man sucker-punched him. Before knocking him down the stairs unconscious, the criminal made sure that Licato knew that the only reason he was assaulting him was that he assumed he was LaBeouf.
On Instagram, Licato shared a photo of his bruised face with the following caption:
"wanna thank the guy who randomly decided he needed to hit me last night. 'this happened bc you look exactly like Shia labeouf'. Well sir you boosted my self esteem bc he's p hot,
The American Honey star heard about the story and decided to call his doppelgänger to show him some support. Licato recounted the long voicemail in an article for Cosmopolitan. He said:
"It was a pretty long voicemail. He was like, 'Hey, this is Shia LaBeouf … I just read an article that you were punched in the face because you look like me?' And he was like, 'Aw, man. That sucks. I'm so sorry. But I get it. It's happened to me before.' And then he was like, 'I don't know. I wish I was in New York. I'd come bring you soup.' He was just like, 'This sucks. I don't even know what to say. I'm sorry. People are just crazy. Just because you look like me?' I was obviously laughing the whole time. And then he was like, 'Here's my phone number. Don't give it to anybody. Please, please, call me back. Call me back if you want to. We could chat. Let's giggle over this. Maybe there's a silver lining in all this. But call me back.' And then he was like, 'And once again, this is Shia LaBeouf, the guy you got hit for looking like. And yeah, man, I'm sorry. I'm just really sorry.' And he was like 'Keep your head up, G.' And that was it."
The pair has spoken, and it appears that they might become friends.
Conversations