JWoww's new baby made his debut this week. Proud mother, Jenni "JWoww" Farley shared a picture of baby Greyson Valor Mathews next to big sister, Meilani, that has hearts melting.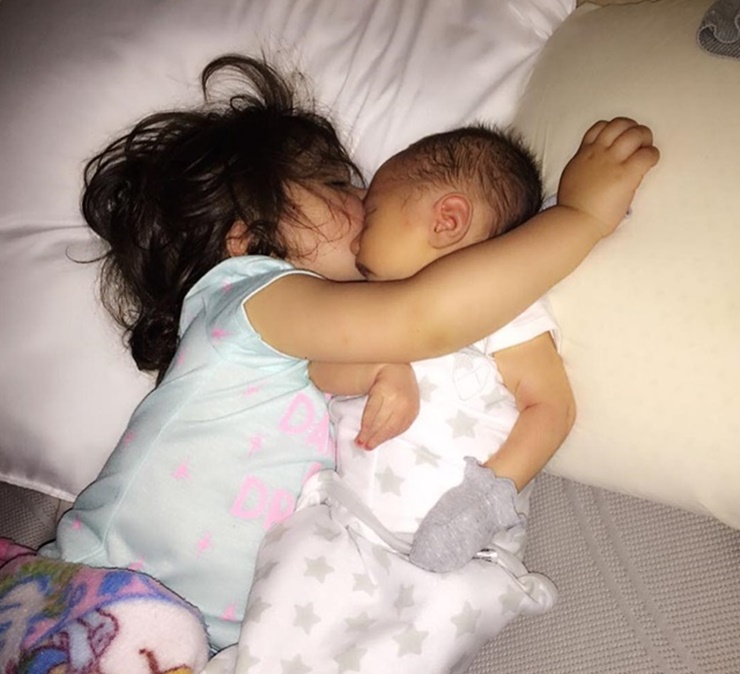 Meet Greyson Valor Mathews, Jenni 'JWoww' Farley's brand new baby boy, who has made his big debut on Instagram.
Over the weekend, reality star JWoww decided to take to her various social media accounts to share few pictures and videos of her baby boy Greyson Valor Mathews.
JWoww and husband, Roger Mathews, welcomed their bundle of joy earlier this month. In the first picture posted by Mrs. Mathews, the baby boy can be seen on a bed dressed in an adorable black hoodie and matching pants. She captioned the photo:
"Oh hey guys."
Farley also shared that photo on her app and quickly moved to Instagram where she uploaded more sweet moments. She unveiled a snapshot where big sister Meilani Alexandra Mathews can be seen snuggling her little brother like two peas in a pod. Proud father Roger also shared the picture on his Instagram account and captioned it:
"They are the future, they are my legacy, they are my children, i [sic] will not fail them. Meilani Alexandra Mathews Greyson Valor Mathews @jwoww."
He went on to add:
"I've seen pictures like this of my sister and I when we were kids. I've seen pictures of other people's kids like this. But when I look at my own kids it makes me realize the incredible luck that fate, timing and choice has bestowed upon me. They don't wake up and ever see me as anything but their one and only Daddy. How blessed am I?"
She later posted a picture of the brother and sister sitting next to each other – with one sleeping and the other smiling. She used the following caption:
"How precious is this! Meilani and her little brother!"
The former Jersey Shore star announced the arrival of her baby on May 5th with a message that read:
"So blessed to welcome our precious son Greyson Valor Mathews. He arrived healthy at 6:03pm tonight and the most beautiful part is Roger got to deliver him with our doctor. Our family is complete!"
The pictures are more than sweet. Hopefully, we will see more cute family moments in the upcoming weeks.
Conversations