Paris Jackson has a new tattoo, which was inspired by her father, Michael Jackson' Dangerous album cover.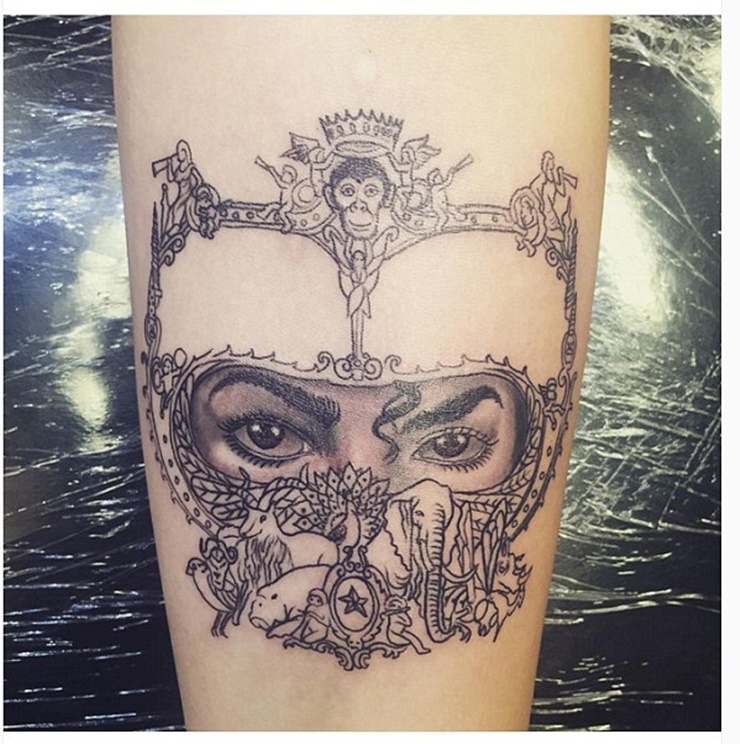 Almost seven years after his passing, Paris Jackson debuted a new tattoo in honor of her late father on social media. On Monday, 18-year-old Paris took to Instagram where she showed off a large ink on her arm.
The impressive tat was inspired by the cover art of Michael Jackson's 1989 classic and multi-platinum album, Dangerous.
The image features Mr. Jackson's dreamy eyes, a strand of hair on his forehead, in an intricate frame featuring animals including a bird, rhinoceros, goat, monkey, elephant, peacock, and jewels.
Again inspired by her father's work, Paris lifted a quote from the King Of Pop's 1992 book, Dancing the Dream that read:
"The meaning of life is contained in every single expression of life. It is present in the infinity of forms and phenomena that exist in all of creation."
The teenager went on to share a very personal message with her followers:
"Never forget your roots, and always be proud of where you came from."
The same day, Justin Lewis, of Timeless Tattoo in Hollywood, who worked on Paris' masterpiece, revealed on Instagram that his work is not done as yet. He explained:
"Tattoo I did today on Paris Jackson. Lots of love my friend, 1 more session to go, bit more shading. #wip."
About one month ago, Paris visited Lewis where she got a first ink honoring her father as she was celebrating her 18th birthday. She got "Queen of My Heart" in Michael's handwriting on her wrist. She explained:
"To everyone else he was the King of Pop. To me, well, he was the king of my heart."
Only time will tell whether Paris' tattoos collection will continue to grow. Mr. Jackson is survived by his daughter, Paris, and his sons – 19-year-old Prince, and Blanket, 14.
What do you think of Paris Jackson's new tattoo?
Conversations