Anderson Cooper and Kelly Ripa reunited and it felt so good. Cooper and Ripa co-hosted Live! and there was a natural chemistry between the pair, who have been friends for a very long time. Now the world is wondering, will the CNN reporter be a permanent replacement of Michael Strahan?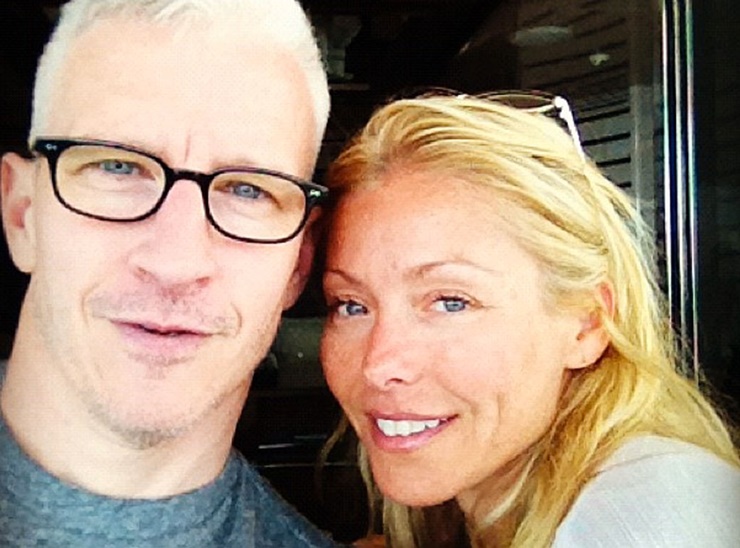 Anderson Cooper and Kelly Ripa might be pairing up for good if the CNN host has his way. On Wednesday, the good friends served as co-hosts of ABC's Live! where Gloria Esteban was the guest.
It was a very entertaining episode where the old pals talked about the many holidays and birthdays they have spent together throughout the years. Ripa revealed that her family was hosted at Cooper's Connecticut home over the weekend, and there was an incident related to an inflatable golden swan.
Ripa spoke about Cooper attending her son, Joaquin's laser-tag birthday party, and told the audience that he had more fun than all of the kids. Cooper did not deny the claim.
Before the show, the BFFs took to social media where they posted a picture of themselves attempting the samba, on "Rhythm is Gonna Get You" by Estefan. At the end of the show, Ripa told Cooper:
"You're a gracious host."
So, will Cooper be replacing Michael Strahan on the morning show? Cooper himself addressed the rumors by saying:
"Listen, I love Kelly and I think Kelly is the heart and soul of that show, and it's gonna go on and continue to be great. I'm very happy at CNN. It would be a dream to work with Kelly, but nobody's offering anything."
A source close to ABC network revealed to the media that Cooper was a front-runner to take over for the former NFL pro. The source said:
"It's likely Kelly will bring up Anderson's name as a replacement."
So, why hasn't Cooper signed a contract yet? First, he has a very busy schedule seeing that "he hosts a show every night on CNN" and secondly, the folks at CNN are not sure they want him to take on another job. An unnamed source said:
"… both Disney-ABC and CNN are hesitant to let that happen, especially given how involved Cooper will be with the presidential election."
So, will Cooper get CNN's permission to co-host for the time being? No one knows. Rob Lowe, Sherri Shepherd, Alec Baldwin, and Mario Lopez are rumored to be eyeing the post.
Conversations