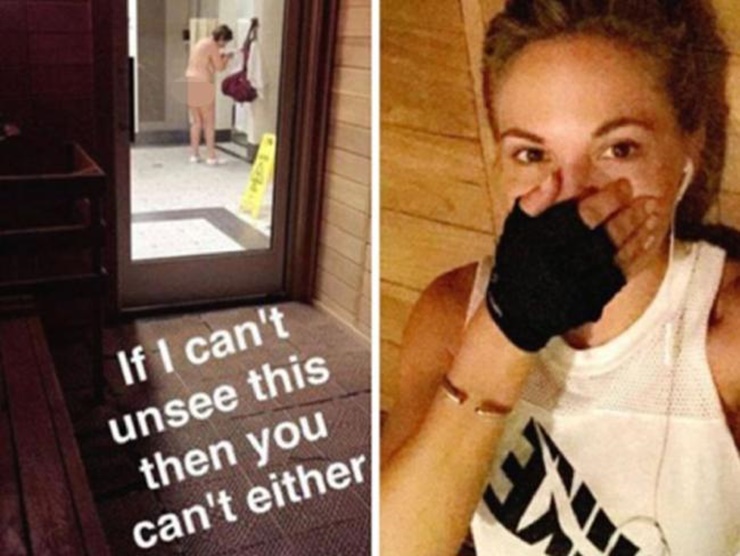 Dani Mathers' photo scandal is taking the Internet by storm, and the crazy part of this story is that it was not even a picture of the 2015 Playboy Playmate.
This week, Mathers took to SnapChat where she shared a picture of a poor woman standing naked in the shower. The photo, which was taken at LA Fitness, a gym where Mathers is employed, showed a woman in the nude getting ready to take a shower presumably after sweating and working out.
The disturbing snapshot also featured the blonde bombshell standing behind the glass door and laughing at the woman. As if she was not mean, condescending, and just plain wrong enough, Mathers used the following degrading caption:
"If I can't unsee this then you can't either."
So, of course, the photo went viral, and Mathers was blasted for her behavior. Mathers was quickly fired from the gym, and things went from bad to worse for her.
Police are investigating the matter, but thus far the victim has not come forward. A spokesperson for the gym said:
"Her behavior is appalling and puts every member's privacy at risk. We have handled this internally and also notified the police."
Moreover, the punishments just keep rolling in for Miss Mathers, Playboy has suspended her from all Playmate activities including her show on Playboy Radio. In another SnapChat post, Mathers has apologized for the picture by saying:
"I just wanted to acknowledge a photo I accidentally posted here on SnapChat earlier today and let you know guys know that was absolutely wrong and not what I meant to do."
Mathers went on to reveal that she was planning to send the photo to a friend and accidentally posted it for all her followers on SnapChat to see. She has since deleted the picture, and most of her social media accounts are now private.
Many are wondering, is she still body shamming other women in private?
Conversations