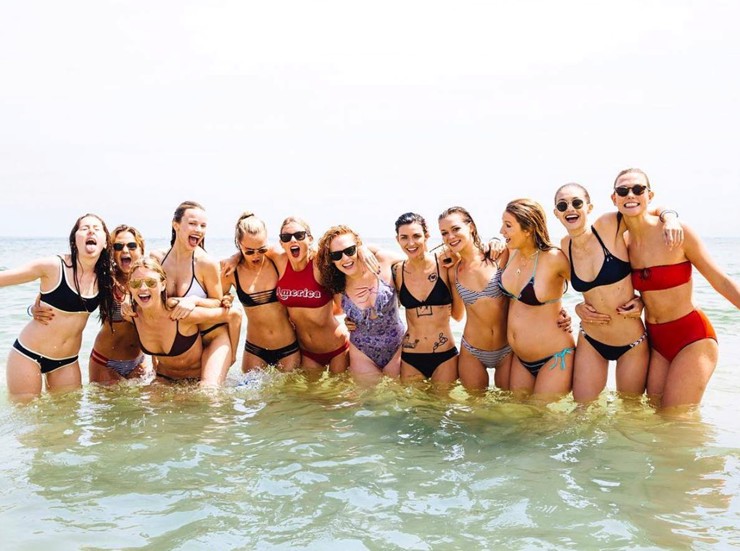 Taylor Swift and Kim Kardashian's epic feud has given birth to the #KimExplosedTaylorParty and some of the tweets and memes are very mean, while others are quite funny. This is how the drama unfolded.
Two months after Kardashian spoke to GQ and explained that Swift knew about the controversial lyrics in the song "Famous," and she approved them, the reality star produced a recording to back her claims.
Over the weekend, Mrs. West took Snaptchat where she shared a video of the phone call that West and Swift had about his "Famous" lyrics. In the song, West said:
"For all my Southside ni**as that know me best
I feel like me and Taylor might still have sex
Why? I made that bitch famous (God damn)
I made that bitch famous."
Swift had always denied that she approved of West calling her a "bitch" on the song. Here is the exchange between West and Swift.
"I think this is a really cool thing to have."
West said about the lyrics:
"I know, I mean it's like a compliment."
West added:
"What I give a f–k about is you as a person and as a friend. I want things that make you feel good. I don't want to do rap that makes people feel bad."
She replied by:
"Go with whatever line you think is better. It's obviously very tongue in cheek either way. And I really appreciate you telling me about it. That's really nice."
He explained:
"I just have a responsibility to you as a friend. Thanks for being so cool about it,"
She responded by:
"I really appreciate it. The heads up is so nice…I never would have expected you to tell me about a line in a lyric. And the flowers that you sent me, I Instagrammed a picture of them and it's the most Instagram likes I've ever gotten."
West added:
"Relationships are more important than punchlines, you know."
Swift said:
"Yeah, I mean, I don't think anybody would listen to that and be like, 'Oh that's a real bit. She must be crying.'"
It is worth noting that in the video, we never hear West say the line, "I made that bitch famous," which is the line Swift did not approve.
However, none of that seems to matter because social media is blowing up with the #KimExplosedTaylorParty where people are bashing and mocking Swift for being a snake, a fake, and a phony.
#KimExplosedTaylorParty salute???????? pic.twitter.com/vGQuO99Emt

— Kashish Hura (@kashish2201) July 18, 2016
I'M CRYING #KimExplosedTaylorParty #TeamKim pic.twitter.com/7RzzOUjfHq

— irene✨ || i met them (@hxrrydallas_lm) July 18, 2016
This about sums up the whole #KimExplosedTaylorParty pic.twitter.com/dJkWlU6UXK

— D.C. (@DarrenConnolly_) July 18, 2016
ayo breezy tell em #KimExplosedTaylorParty pic.twitter.com/OiBUMBUlQi

— // mads // (@slayedjustin) July 18, 2016
#KimExplosedTaylorParty Directioners watching all of these drama like pic.twitter.com/tap0McRxod

— ❄nadi❄ (@haroldbearzjm) July 18, 2016
OMFG THIS PIC MADE MY DAY #KimExplosedTaylorParty pic.twitter.com/4ckyNklGn4

— ines (@BEARISUN) July 18, 2016
Delete this ???????? #KimExplosedTaylorParty pic.twitter.com/G4HTQOYQQC

— Brittany (@KickinitwithB) July 18, 2016
When you wake up to #KimExplosedTaylorParty and have no idea what's going on so you're trying to catch up… pic.twitter.com/hZqrxPkJeT

— Troy Doherty (@TroyDoherty) July 18, 2016
Conversations