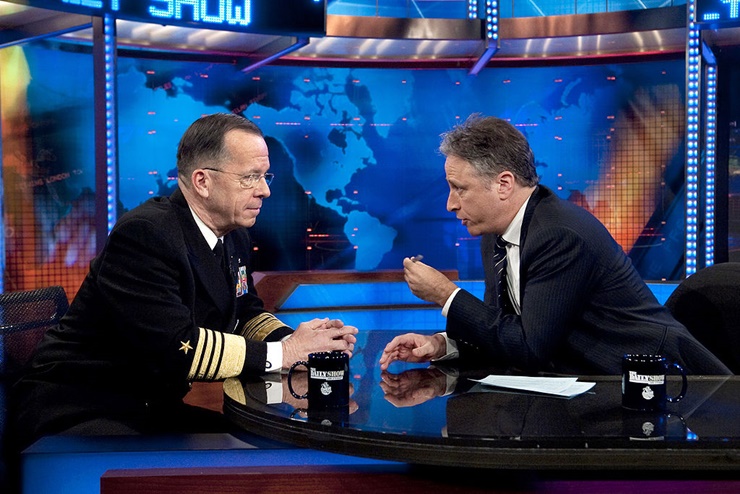 A portion of Sean Hannity's show was dedicated to Jon Stewart. Thursday many were surprised when Stewart came out of retirement and appeared on The Late Show With Stephen Colbert to blast Donald Trump's convention speech.
During his epic rant, the former host of The Daily Show, also picked on his favorite targets, Arby's, and FOX News employees. He went after Fox News host Sean Hannity whom he referred to as "Lumpy." The television personality said:
"Yeah, you elitist! You probably eat that burger with your mouth. Instead of acting like a real American and having a Magnum fire it up your ass. Like they serve them at Arby's. That's how they serve them, actually, at Arby's. Meanwhile, here's how Lumpy feels about the guy who sits in a literal golden throne at the top of a golden tower with his name in gold letters at the top of it, eating pizza with a knife and fork. How do you feel about that guy?"
He added:
"That's not a thing. You know what? It is true, Trump does seem like the kind of guy you want sit down and own a fleet of airplanes with. Look, all that stuff is actually superficial and I'm sure it's easy for people without ethics or principles to embrace someone who embodies everything that they said they hated about the previous president for the past eight years. Because, really for a president, it's about what's inside. And that's where Lumpy and friends — that's where they really have found the president lacking."
Despite having a convention to cover, Hillary Clinton's announcement that Tim Kaine is her VP, Roger Ailes leaving FOX News, Hannity still found time to go after Stewart.
The conservative star of The Sean Hannity Show, called Stewart an idiot, who came back from the dead and has had his head "so far up Obama's ass… I've never seen anybody kiss an ass like you kiss his." Hannity stated:
"I know you're a rich liberal. Are you donating money to those families, the 46 million American families on food stamps, Jon? Hey, Jon, are you helping out the 50 million Americans in poverty? Hey, Jon, are you going to help use your wealth from all your comedy writers that lay out the material for you, are you going to help pay down the debt that Obama's accumulated?"
What do you think of this feud?
Conversations