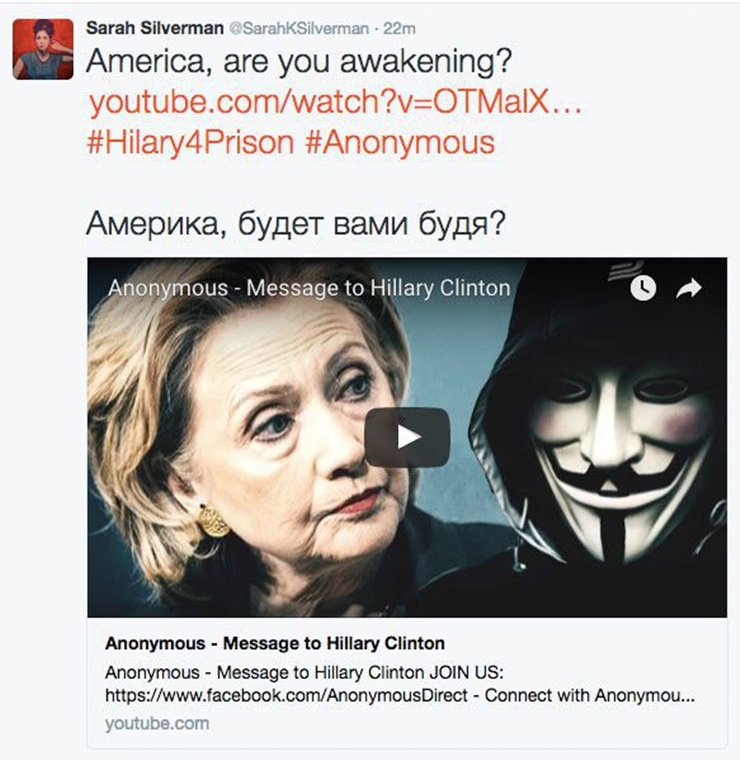 Sarah Silverman's Twitter account was hacked either by Anonymous or by Russian hackers. Monday, comedian Sarah Silverman stole the spotlight at the Democratic National Convention in Ohio during an unplanned and made-for-TV moment.
Upon hearing some of the Bernie or Bust people booing, Miss Silverman, who was a Bernie Sanders supporter and had just endorsed Hillary Clinton in a rousing speech, grabbed the mic and said:
"To the Bernie-or-bust people, let me just tell you: You're being ridiculous."
This is what Silverman said during her speech that made the audience angry:
"As I continue to be inspired and moved to action by the ideals set for by Bernie, who will never stop fighting for us, I am proud to be a part of Bernie's movement, and a vital part of that movement is making absolutely sure that Hillary Clinton is the next president of the United States."
Silverman made headlines after her speech, and her name was trending on social media, which is maybe why she became a target for hackers. On Tuesday morning, Silverman's official Twitter page was hacked and a post entitled "A Message for Hillary Clinton" was posted on her timeline.
The hacker's post contained a video, which was captioned with the following question: "America, are you awakening?"
The video, which included messages in Russian and English, was originally released from the official Anonymous account back in April.
The tweet and video were quickly deleted and followed by a statement from Silverman that read:
"MY TWITTER ACCT GOT HACKED THIS IS NOT ME"
The hacking of Silverman's Twitter account comes just days after Wikileaks posted more than 20,000 emails from the Democratic National Committee.
It has also been confirmed that Hillary Clinton's campaign was hacked as part of a broad cyber attack on Democratic political organizations.
Clinton's campaign believe that Vladimir Putin's government is behind the hacks.
Conversations