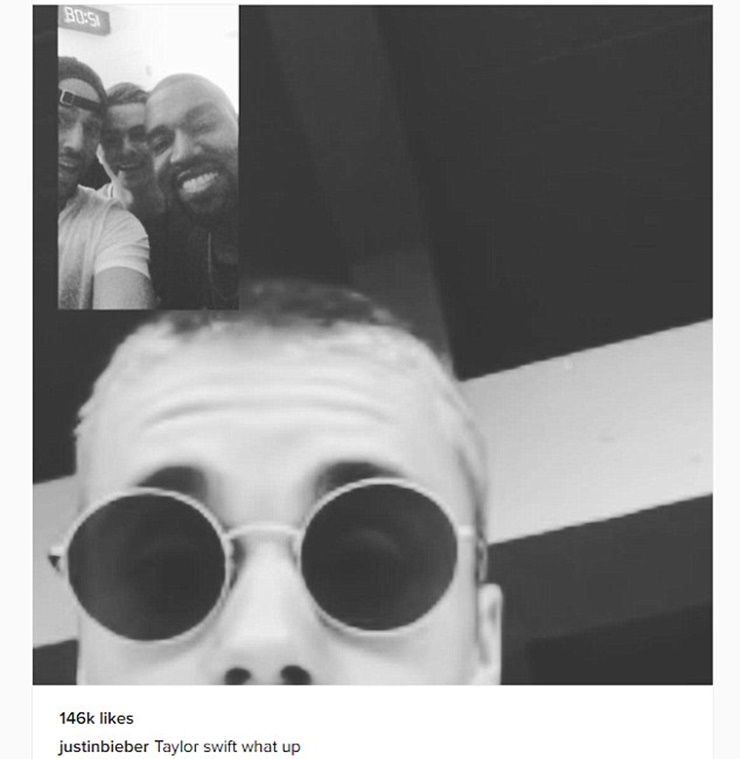 Justin Bieber and Taylor Swift are no longer friends – it is official. On Tuesday, Mr. Bieber let Swift know that she has almost no friends left in her war against Kanye West and Kim Kardashian.
The "Baby" singer took to Instagram where he ended his friendship with the country diva. The Canadian star is making headlines thanks to a simple post on the social media network.
The post features a screengrab of a FaceTime session with Mr. West and his manager, Scooter Braun. While there is nothing extraordinary about the grainy black and white picture, the caption is eye-raising.
Under the pic, Bieber, who is known for being very sarcastic and loves to pull pranks, wrote:
"Taylor swift what up."
Since then the hashtag #TaylorSwiftWhatUp has been trending worldwide, and thousands of people are using it to mock Swift. Bieber, who is currently holidaying in Hawaii, sure knows how to steal the spotlight.
Bieber and West previously worked on a remix of the star's 2011 song "Runaway Love." Bieber opened up about the collaboration in September 2015, and he said:
"Kanye's a talker. You get him in a room and he starts talking and ranting, I just sit and I listen. He's been through a lot of stuff and he's not just talking to talk, he has something to say from his heart. I just sit and listen because he's really smart."
Not many people are surprised by Bieber's move because rumors have been flying high that Swift never liked him. Sources stated that she never approved of her best friend Selena Gomez dating the young and controversial crooner.
Moreover, we all remember the 2013 Billboard Music Awards when she refused to answer a question about Bieber and stuck out her tongue when she saw him kissing Gomez backstage. The Country singer has been trying to stay under the radar in the past few days after being called out by Kardashian, who posted a phone conversation that her husband and Swift had about his song "Famous" where he called the pop star a bitch.
Swift denied that she gave him permission to use the lyrics and slammed the pair via Instagram soon after. She even threatened to sue them. Her statement read:
"Where is the video of Kanye telling me he was going to call me 'that bitch' in his song? It doesn't exist because it never happened. You don't get to control someone's emotional response to being called 'that bitch' in front of the entire world. Being falsely painted as a liar when I was never given the full story or played any part of the song is character assassination."
What do you think of this new feud?
Conversations