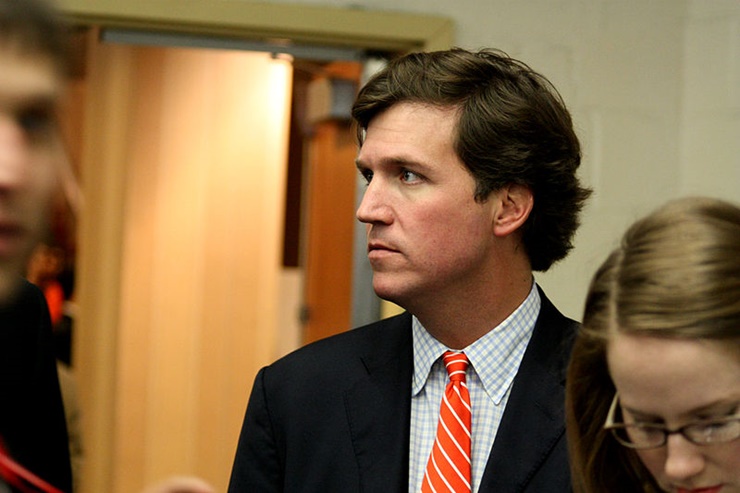 Tucker Carlson has been named as the new host of On the Record and now many are wondering, will Megyn Kelly be next on the chopping block? Kelly's contract is ending in less than one month.
Thursday, Fox News Channel made it official that Mr. Carlson would replace Van Susteren. She left the network over a contractual dispute weeks following her former boss Roger Ailes' exit from the network after sexual allegations surfaced.
The 47-year-old conservative pundit will start his new gig on November 14. Brit Hume, who has been filling in since Van Susteren's departure in early September, broke the news on social media. The political commentator said via Twitter:
Great news! @TuckerCarlson will take over On the Record after the election as the new host. Congratulations to him. Terrific choice!

— Brit Hume (@brithume) November 3, 2016
According to reports, Carlson, a Tea Party darling, is very close to Rupert Murdoch, the owner of Fox News. The Murdoch family has been more or less running Fox News since Ailes was fired. Carlson worked for PBS, CNN, and MSNBC before landing on FOX.
He was a co-host of CNN's Crossfire, where he represented conservative viewpoints. In 2005, he landed his show called Tucker on MSNBC. The program was canceled in 2008.
He joined Fox News in 2009, and four years later he was promoted to co-host on the weekend edition of Fox & Friends. Carlson is also the founder of the Daily Caller, a conservative news and opinion website. He is also very close to Alex Jones, known for his conspiracy theories
Conversations