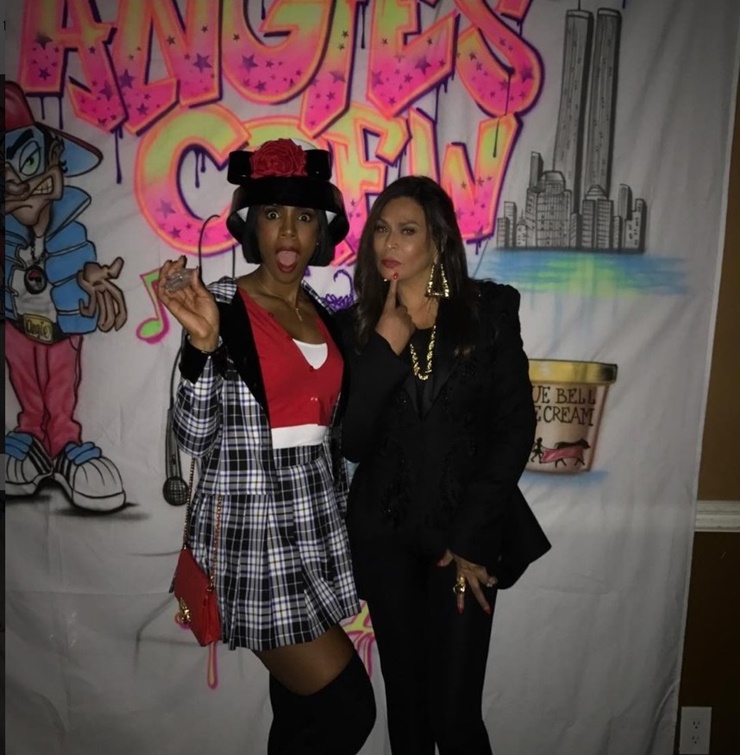 Stacey Dash and Beyoncé's mother, Tina Lawson, are feuding over a Halloween costume and Instagram comment. Many are wondering if these two adult women do not have anything better to do.
Last week, Mrs. Lawson took to Instagram where she posted a cute picture of herself standing next to former Destiny Child's member Kelly Rowland in her funny Halloween costume. Mrs. Rowland was dressed as Dionne Davenport, the character Dash played in the hit movie Clueless.
The coming-of-age comedy also starred Alicia Silverstone, Paul Rudd, and Brittany Murphy. Lawson captioned the photo:
"This is my baby as Dione last night, of course, she is prettier and more smart than the one from the movie but I was confused cause she kept saying something about her pager."
African-Americans do not like the Celebrity Circus star because of her support for Mitt Romney and for saying that Black History Month should not exist. Dash, who is not afraid of drama, rapidly took to social media to bash Beyoncé's mom. Dash wrote:
"Well, you never know what you are doing to wake up to, do you? This morning, I awakened to people telling me that Beyoncé's mom was saying that I was ugly. Here's the 'controversy' generated by Tina Lawson: If one thing runs in Queen Bey's bloodline, it's the ability to throw subtle shade and Tina demonstrated her acumen for the art of insult this Halloween, somehow managing to turn a cute costume into a caustic diss. Tina has managed to stay rather close with Kelly Rowland after all these post-Destiny's Child years and the two apparently got together for Halloween, with Rowland dressed as Dione (the iconic character originally played by Stacey Dash in Clueless)."
Dash went on to say:
"First of all, if you're trying to throw shade about someone's intelligence, maybe use 'smarter' instead of 'more smart'; Here's the thing — Kelly Rowland is a beautiful girl and I love the costume! Imitation is the best form of flattery. Order my Book, There Goes My Social Life: From Clueless to Conservative!"
Lawson has deleted the original message and replaced it with another one, which read:
"This is my baby as Dione last night but I was confused cause she kept saying something about her pager lord no shade intended!!!! It was a character in a movie!!!!"
The move from Dash is not all that surprising, she has been a commentator on Fox News and has been under fire for blasting President Barack Obama and bashing Jay Z and Beyoncé's trip to Cuba. Dash also made headlines for her support of Donald Trump's proposal to ban Muslims.
Conversations